Creative Director, Copywriter, Strategist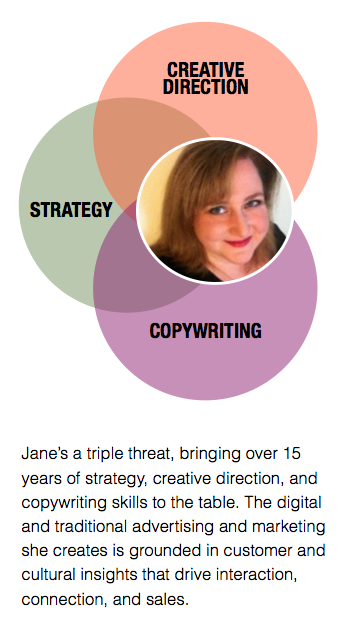 "Curiosity about life in all of its aspects, I think, is still the secret of great creative people."- Leo Burnett
Burnett nailed it; creativity and curiosity go hand in hand. I strongly believe that the best work comes from questioning what motivates people, what makes them passionate and finding ways to connect to that through the work we do. It's also key to finding inspiration from our world around us, and using it to derive new ways of putting concepts together that are fresh, exciting and connect to those we try to reach through our campaigns.
MY APPROACH
Over the past 15 years, I've worked at agencies all over the Greater Boston area and on a wide variety of clients from donuts and beauty to technology and healthcare. But, no matter the category, finding the stories, whether emotional or rational, to tell that resonate with the target is always key. From the big idea to the right word choice, my approach focuses on finding strategies and ideas that connect to consumers, bringing forward the one truth of a client's brand. It's not about the media, but the solution that works best to reach the goal. Sometimes it's a Facebook contest, and sometimes it's a TV spot.
MY BACKGROUND
I'm a creative director and copywriter with digital, integrated, and traditional expertise, but I think analytically, bringing strategic thinking and research to the forefront of every project I work on. I have a solid record of using strategy to push great ideas and sell in incremental projects by helping clients see how innovative ideas can positively impact their ROI.
I've developed strategy, creative concepts, and digital and traditional campaigns for brands like Dunkin' Donuts, LoJack, Comcast, Citizens Bank, Coca-Cola, Shaw's Supermarket, Kleenex, NHL.com, New Balance, and many others. My experience spans QSR, CPG, Financial, B2B, Sports, Retail, Fashion, and Non-profit categories.
I build clients' business profiles. By guiding DD in establishing strong interactive and social marketing presence, they achieved awards such as MITX's Interactive Marketer of the Year in 2009 and Brandweek's 2009 Marketer of the Year. I have also helped agencies win numerous awards and press coverage.
From concept to production, I have years of experience driving the creative process, managing and inspiring cross-discipline teams, multitasking on accounts, working closely with clients, winning new business, and delivering on time under tight deadlines. I also provide thought-leadership to clients and agencies. My enthusiasm for what I do translates into my curiosity to constantly learn and grow, which means staying on top of industry trends and participating in industry events and publications.