Unfreeze it
Controlling the real world through Facebook
What if you could control a real water gun to melt ice and win prizes through Facebook? That's idea I had that lead to the creation of Unfreeze It for Dunkin' Donuts.
Our client asked us to create a unique, exciting social program, generating interest and engagement, but with only a 30-day promotional window and no paid media support to drive awareness. This meant the idea had to be different, innovative and create buzz.
The concept I developed was a social game tied to something that happened in the real world, and brought together the two brand qualities of Dunkin' Donuts and Mountain Dew.
Users controlled a real water gun through a Facebook app as part of a daily game of chance to win prizing tailored to the two brands. The goal of the game was to unfreeze a Mountain Dew Coolatta cup from the center of a large block of ice. Streaming video in the app allowed people to view the whole process and see when the cup when it fell out of the ice. This enticed those who had not yet participated as well as providing an additional engagement point.
Dunkin' Brands chief global marketing & innovation officer, John Costello said, "Creating the Mountain Dew Coolatta and combining the real world and the virtual world in our unique 'UnFreeze It' promotion, we highlight our shared commitment to thrill our loyal guests in new and exciting ways and continue to build our brands' reputations for fun and innovation."
Results showed that people found it fun and exciting. We saw over 130,000 entries in the game (700% more than client predicted), more than 44 million Facebook impressions as a result of shares, likes and comments, and an excess of 8 million PR impressions. In fact, over 80% of users came back to play more than once.
All of this was with no paid media; only social posts, emails to the Dunkin' database, promotion on DunkinDonuts.com and PR efforts, including an exclusive with Mashable.com.
Skill Sets:
Strategy
Concept Development
Creative Direction
Client Presentation & Management
Copywriting
Social Media
Mobile
Working with Cross-Functional Teams
User Experience
Awards & Recognition:
+ 2011 MITX Finalist: Consumer Goods
+ 2011 MITX Finalist: Games and Branded Entertainment
+ 2011 Hatch Merit
+ 2011 OMMA Award Finalist

Buzz On The Unfreeze It Campaign:
+ Blast Ice With User-Controlled Water Cannon in Dunkin' Donuts Facebook Game
+ Dunkin' Donuts picks unusual way to draw attention to new Coolatta flavor
+ Dunkin' Donuts and Mountain Dew Team Up For Interesting Facebook Promo
+ Open Wide For Dunkin' Donuts' New Mountain Dew Coolatta
+ Dunkin' Donuts says, 'America runs on Facebook,' with new advergame
Or, see more social media projects for Dunkin' Donuts.
Click on an image below to view it larger.
Unfreeze It Promotion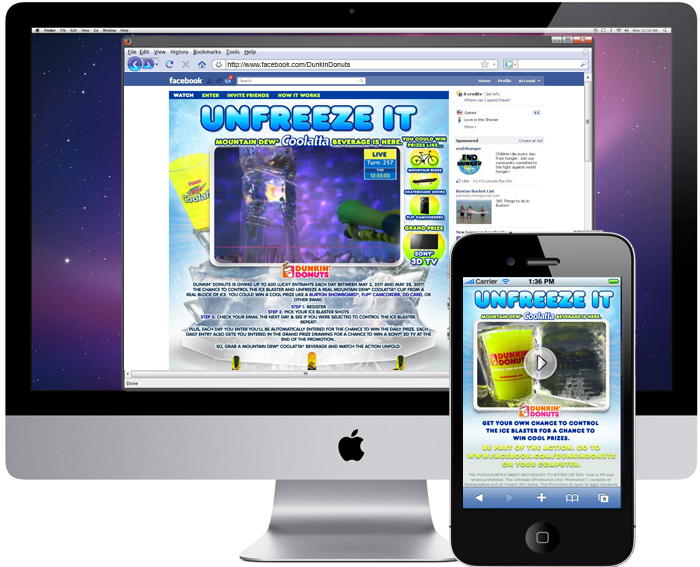 Unfreeze It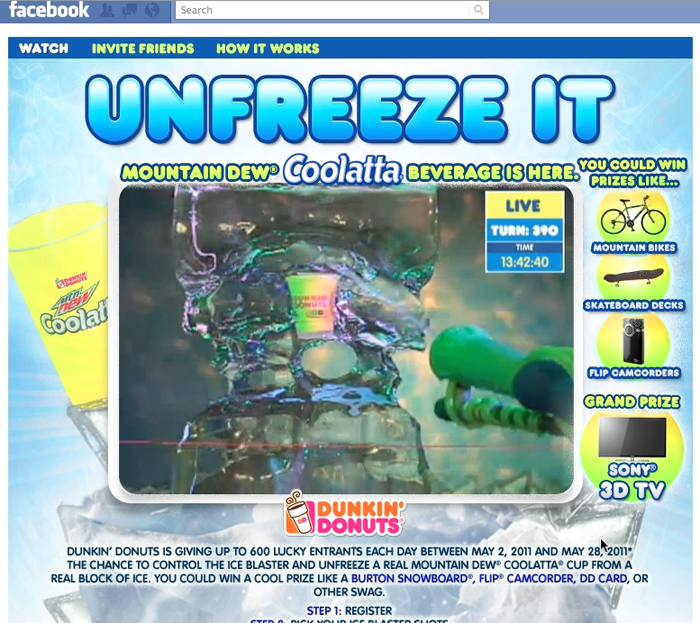 Unfreeze It: Main page on Facebook with streaming video going through shots.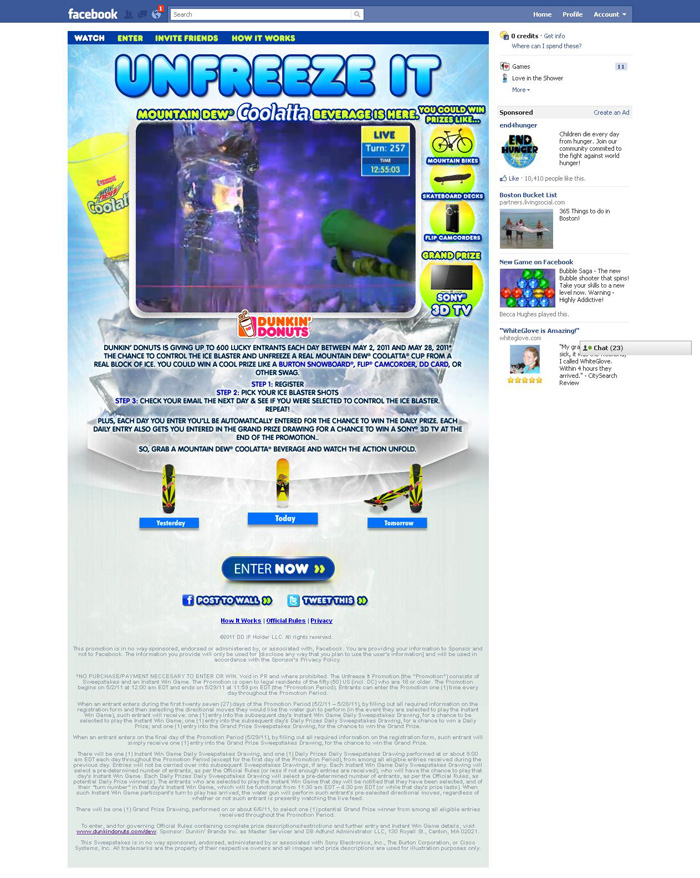 Unfreeze It program flow and build plans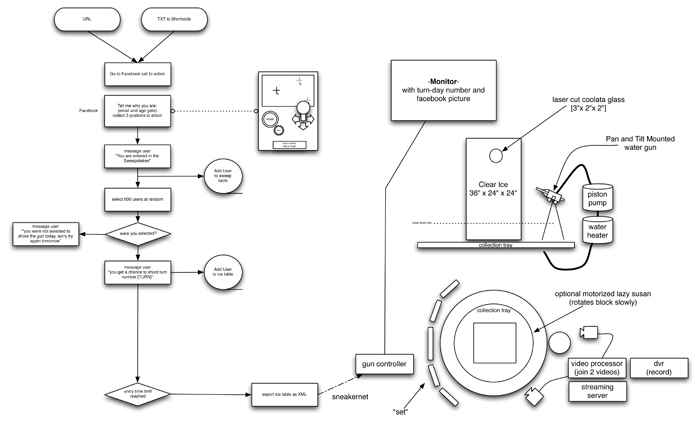 Contest registration/shot selection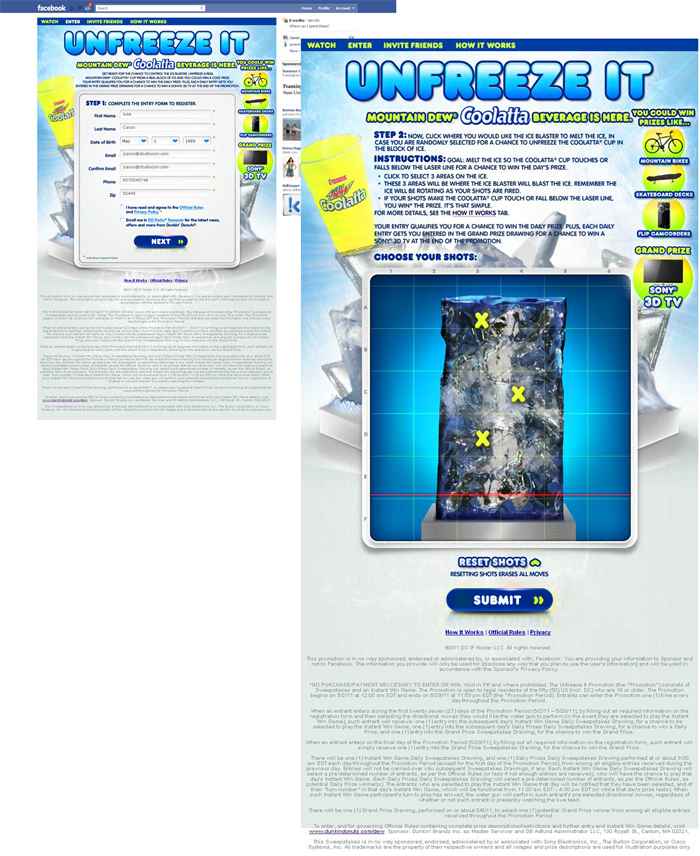 Water gun setup with ice block.


Unfreeze It drivers and buzz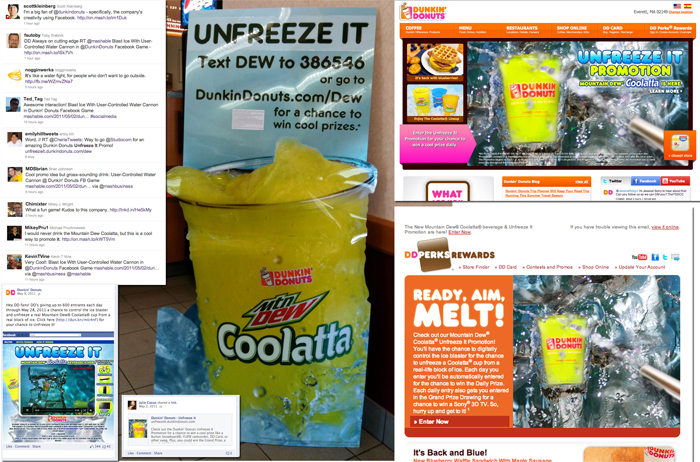 Watch how the experience unfolds: