Dunkin' Donuts Social
Celebrating the fans.
Since 2007, I've helped provide strategic insights and creative concepts which have won awards, helped make Dunkin' Donuts an industry leader in social, and increased their fan base 7900%. Here is a small selection of the social media programs I worked on using the platforms to help celebrate, connect and engage the DD fan base:
Keep It Coolatta:
"Grab it. Snap it. Post it. Win it." This was one of the first large scale social promotions we launched on behalf of DD. The goal was to promote the Coolatta beverage line and target a younger, savvy, connected audience in a competitive marketplace. At the time (2009), we had 925K+ fans on the brand page; and the idea was spawned by leveraging the existing functionality and behavior of the platform. Fans posted photos of themselves with a Coolatta to the brand page with the caption #CoolattaGiveaway, then update their profile picture with the same image to be entered for a chance to win. Prizes included: air conditioners, KangaROOS sneakers, an iPhone, and JetBlue flights. Along with a random winner every day, a "Fan of the Day" profile photo was featured on the Dunkin' Donuts Facebook page. A Facebook-specific content management system was created that acted as a meta tool allowing the sorting of data from Facebook's API to solve the technical issue of easily sorting through responses for eligible fans.
Fan Of The Week:
What began as the "Keep It Coolatta" program evolved into the "Fan of the Week". The 15-minutes of fame as social currency was so popular we found a way to make it an evergreen program. Each week, one fan who submits their photo to the DD page is selected to be featured for the following week. Facebook "Fan of the Week" has since been imitated by many brands (e.g. Papa John's, Oreo, NY Knicks). Variations on the "Fan of the Week" theme have also been used to align with marketing calendar programming, such as "YeDDi of the Week," Valentine's Day, and other occasions.
Keep It Coolatta 2: Flavor Boogaloo:
Dunkin' wanted to highlight Coolatta again in the summer and so we brought back the "Keep It Coolatta" promotion with a new twist. With a mid-twenties target audience and a flavor "mixing" message, we focused on music as the concept and asked consumers to help us build the ultimate summer Coolatta music mix. Users submitted songs through an app on Facebook and direct from rich media banners, associating their song with a Coolatta flavor. (So, for example, "Ice Ice Baby" reminds me of Vanilla Bean.) After a 4-week submission period, we released the mix as a DD branded Pandora station. Additionally, there was sharing functionality built into the Facebook app that allowed users to share the campaign with their friends. The mobile components of the campaign included mobile advertising as well as a mobile reminder for users to be alerted when the mix was ready to listen to on Pandora. Check out the Flavor Boogaloo channel on Pandora here (branding is gone but the list of songs is still available).
Maurice:
Live. Love. Latte. It's the motto of Maurice, Dunkin' Donuts talking espresso bean. The idea was to create a memorable character to enhance credibility of perceptions of Dunkin' latte authenticity that lived under the radar and functioned as a vehicle for "Latte pick-me-ups", a way to let friends know you're rooting for them. The functionality naturally encourages people to send it to their friends and of course is a natural tie with Dunkin' Latte as the perfect afternoon pick-me-up. Maurice is a sharable, intriguing and fun widget that lives as an application on the Dunkin' Donuts Facebook page, as well as well as on the Dunkin' Donuts website. See more about Maurice here.
Penguin Suit Guy:
Penguin Suit Guy is the embodiment of the high-energy boost that Dunkin' Donuts iced coffee provides. He is never found without his iced coffee, and wants to share the source of the "pep in his step" with everyone. Importantly, though, Penguin Suit Guy is not a spokesperson for Dunkin' Donuts, or a brand character. He's simply a guy in a penguin suit – who kind of thinks he is a penguin – who loves Dunkin' Donuts iced coffee (with cream and sugar). The web video series showcase the Penguin Suit Guy and his antics at the ski mountain, on a college campus, at the gym, and even at a Dunkin' Donuts store. Each scenario was very loosely constructed leaving much up to improv and the brave DD customers/participants. The videos were featured on the Dunkin' Donuts YouTube brand channel, and have been promoted primarily through the DD's social channels, including Twitter and Facebook.
Unfreeze It:
The idea to use a social (digital) platform to control a real water gun to free prizes from a block of ice in the real world came from the client ask to create a unique, exciting social program around the Mountain Dew Coolatta. The campaign's goal was to generate interest and engagement, with only a 30-day promotional window and no paid media support to drive awareness. Through a Facebook application, users could control what happened in a live, real-world environment as part of a daily game of chance. A cup of Mountain Dew Coolatta was frozen in the center of a block of ice in the real world, and every day for 30 days through the app, fans would virtually control a real water gun to free the cup from the ice block for a chance to win. The Unfreeze it apparatus (gun, ice block, etc), FB app and streaming video components were completely built in-house from the ground up. The promotion far exceeded client expectations. See more about Unfreeze It here.
Be President of Dunkin' Nation:
Who wants to be mayor when you could be President? That was the idea behind Be President of Dunkin' Nation, a promotion that gave Dunkin' Donuts customers a chance to be named "President of Dunkin' Nation" and win cool prizes by being the person with the most check-ins during a week period. The program was developed in only weeks and created a social media one-two punch of Facebook check-in and Foursquare technology. A leaderboard incorporated into the app allowed for real-time updating of the user's status, creating a huge organic proliferation of earned impressions. Additionally, each time a user registered for the app or checked-in with Foursquare, the app pushed their notification to their friends' newsfeeds, amplifying the message about the program.
Get SanDDwich'd:
When Dunkin' wanted to promote their new line of Bakery Sandwiches, we leveraged fun concept of sandwiching yourself between things you love. The program leveraged the proliferation of photos in social (with the new FB timeline format, popularity of Instagram, etc). Using an app on Facebook, fans could upload a photo of themselves sandwiched between two things for a chance to win a trip to Sandwich, MA on Cape Cod among other prizes. It was fun, simple and clearly communicated the fact that Dunkin' now had sandwiches on their menu.
The Great DD Gronk Off:
For the DD Boston market, we created a program to provide excitement around the Bakery Sandwich lineup and New England Patriots tight end, Rob Gronkowski. Known for his signature touchdown celebration of spiking the ball, this program celebrated it by having DD fans share their own "Gronk" or post a photo of themselves alongside a life size cardboard cutout of Gronk found in DD restaurants. Through an app on Facebook, fans could upload their picture or video for a chance to win lunch with the man himself. They also found sharable pep talk videos from Gronk, with a new one released each week during the 8 week promotion.
Skill Sets:
Strategy
Concept Development
Creative Direction
Copywriting
Art Direction
Client Presentation & Management
Working with Cross-Functional Teams
Social Media
Video Production
User Experience
Awards & Recognition:
Dunkin' Donuts Facebook Page
+ 2011 MITX Finalist for Innovative Use of Social Strategies
+ 2010 MITX Award Winner: Social Influence Applications
Penguin Suit Guy
+ 2011 MITX Finalist for Video
Dunkin' Donuts Unfreeze It
+ 2011 MITX Finalist
+ 2011 Hatch Merit
+ 2011 OMMA Award Finalist
Keep It Coolatta 2: Flavor Boogaloo
+ 2010 MITX Finalist for Best Cross Media Campaign for KIC 2: Flavor Boogaloo
Maurice the Talking Espresso Bean
+ 2010 MITX Finalist for Branded Content
+ 2010 Hatch Award for Social Media

Buzz On DD in Social:
+ America Runs On Dunkin' Donuts Social Media
+ How Dunkin' Donuts Uses Open Innovation to Get Ahead
+ Dunkin' Donuts and Levi's Music Promotions Provide the Soundtrack to Your Summer
+ Mashable: Crowdsourcing Case Studies
+ Dunkin Donuts' Facebook Campaign Turns Your Profile Pic into Prizes
+ How Dunkin' Surpassed the 2 Million Fan Mark
+ What the Largest Coffee Shop Chains Are Doing on Their Facebook Pages
+ The Business Guide to Facebook Part 2: From eCommerce to fCommerce
+ Crowdsourcing on Facebook Gets You Consumers' Ideas and Their Purchases
+ Everything You Need to Run a Successful Social Media Contest
Click on an image below to view it larger.
Fan of the Week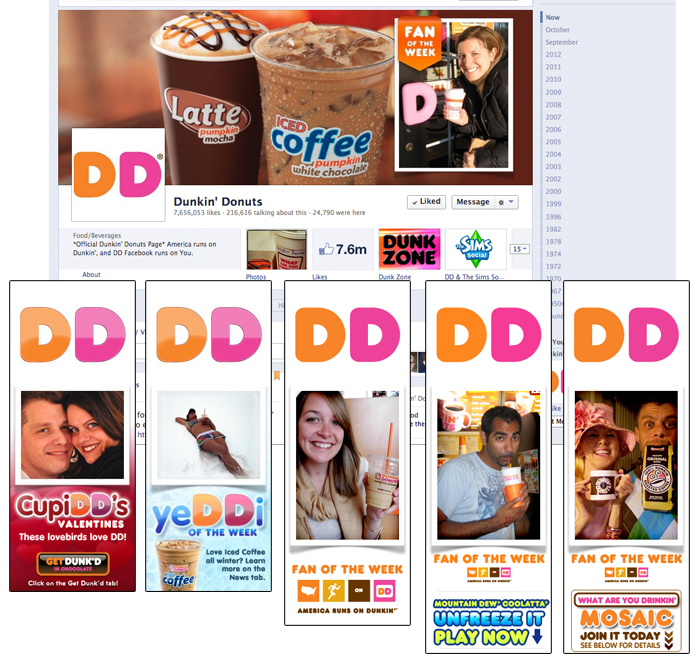 Keep It Cooaltta 2: Flavor Boogaloo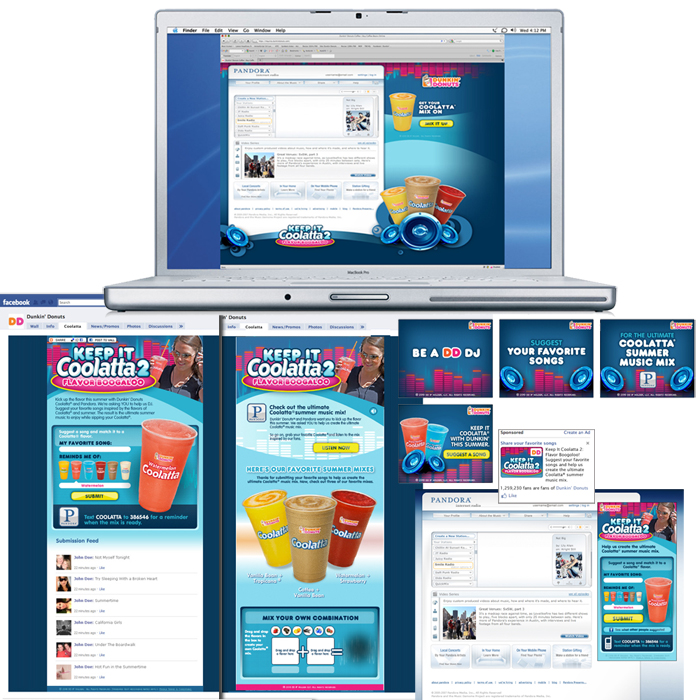 Maurice The Talking Espresso Bean (see more of the work here)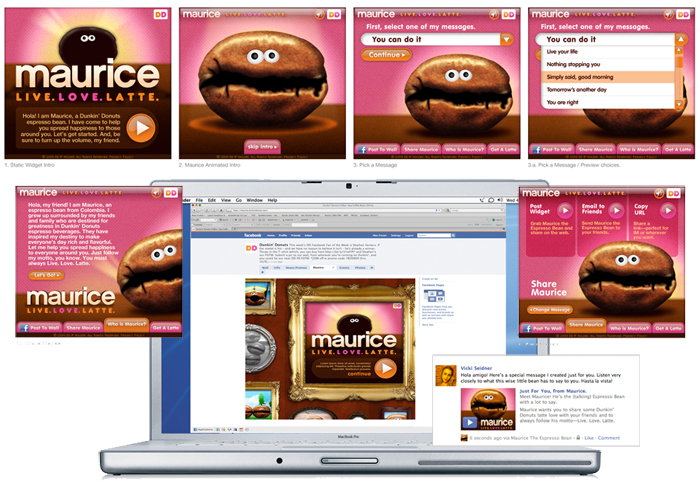 Penguin Suit Guy - Penguin Yoga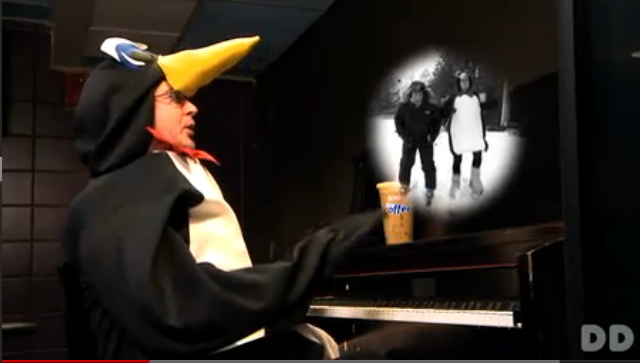 Unfreeze It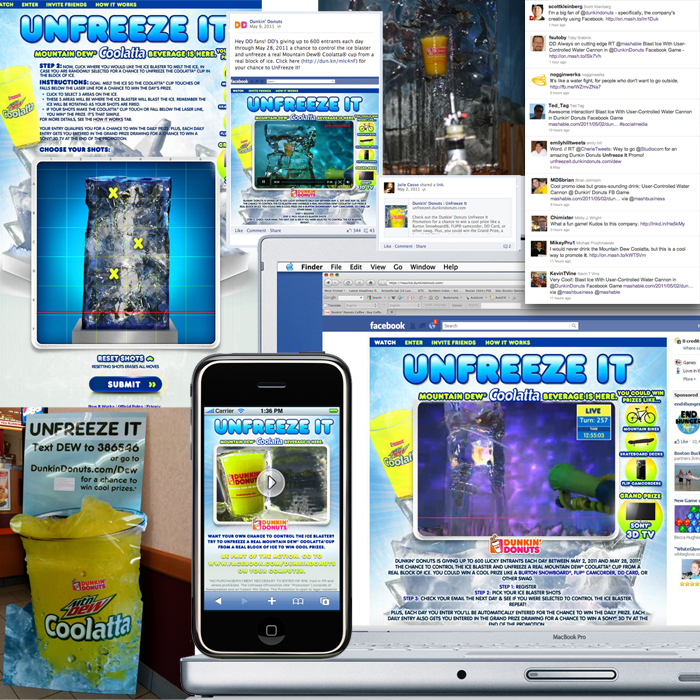 Be President of Dunkin' Nation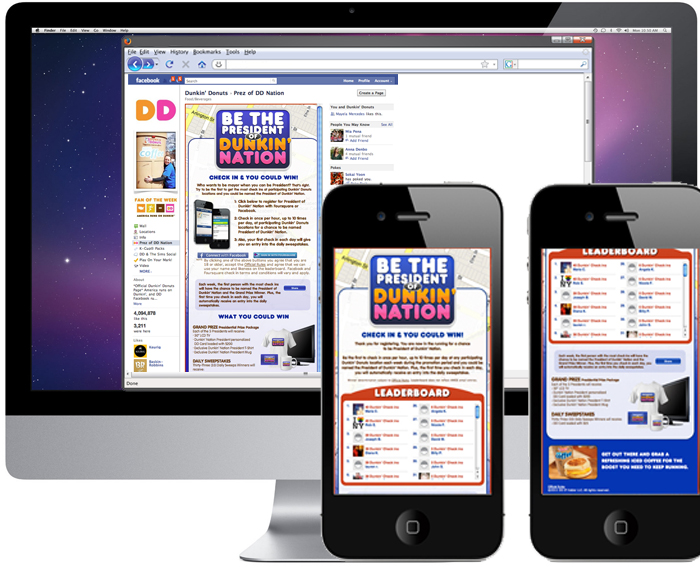 Growing the social fan base through a variety of high engagement programs on FB and Twitter.