DD Perks
An evolution of relationship marketing.
Dunkin' Donuts wanted to improve its CRM program and between 2007 and 2012, I helped provide strategy, creative direction and copywriting that grew the database 900%.
The Perks Logo & Tagline:
One of our first assignments was to create a logo and tagline for the program. The tagline I created needed to be an extension of the brand positioning line "America Runs on Dunkin'". "Life runs better with Perks." did just that, maintaining and adding to the branding.
Perks Evolution:
In 2007, the email program for Dunkin' did not have a lot of branding. There was no set template for efficiency or simple solve for versioning. With 100s of DMAs, DD needed a solution to be able to tailor emails based on different franchisee offers, events, etc. A new template was created in 2008 to solve for these problems. In 2010, the template was revamped again for optimization for mobile, email client changes, etc. The template required cutting or creating specific sized images, writing copy with character count limits and working with the Operations team to insure ExactTarget was rendering the emails correctly.
DD Perks Marketing Emails:
These are some examples of the marketing emails created for Dunkin'. The DD Perks emails changed to DD UpDDate in 2012 to differentiate it from the rewards/loyalty program. Each of these emails are customized for over 100 DMAs, supporting over 25 Field Marketing Managers.
DD Perks Rapid Response Emails:
Dunkin' wanted the ability to quickly send out emails to customers based on the weather or with other special limited time offers. I worked with the team to created a modified version of the marketing email template which enabled creative to be turned around in less than two hours to the client, and live in under 48 hours.
Dedicated Emails:
Whether it was for a new product, holiday, or to create awareness about a social promotion, dedicated emails were designed without the use of a template. This allowed for more creativity and higher impact in the customer's inbox.
DD Perks Rewards:
Dunkin's loyalty program, DD Perks Rewards was tested in local markets for a few years before becoming a national program. This required creating many templated, dynamic emails, website content and direct mailers.
DD Perks Direct Mailers:
When a customer signs up for DD Perks Rewards, they receive a coupon for a free medium beverage and another on their birthday. We created the DM piece they received. Additionally we created some other direct mail pieces to get pre-registered DD Cards in customers' hands as a way to grow the program.
DD Perks Redesign:
Dunkin' was looking for a way to differentiate between its various communications. The DD Perks Redesign was an exploration of ways to do so. This included looking at logos, DD Card designs, packaging, in-store signage and more. During the exploration, I came up with other extensions to create awareness and help grow the database through a Perks Day, Refer A Friend app on Facebook and using partnerships that the brand already had (such as JetBlue and American Express.)
Skill Sets:
As ACD/creative lead and copywriter for DD Perks and DD Perks Rewards, my responsibilities included developing creative strategies, working with our clients, cross-functional teams (UX, Marketing Operations, etc), and leading our team of designers, art directors, copywriters.

Strategy
Concept Development
Creative Direction
Copywriting
Art Direction
Customer Relationship Marketing
Working with Cross-Functional Teams
Client Presentation & Management
User Experience
Scroll down to see all images.
Creation of the DD Perks logo and tagline.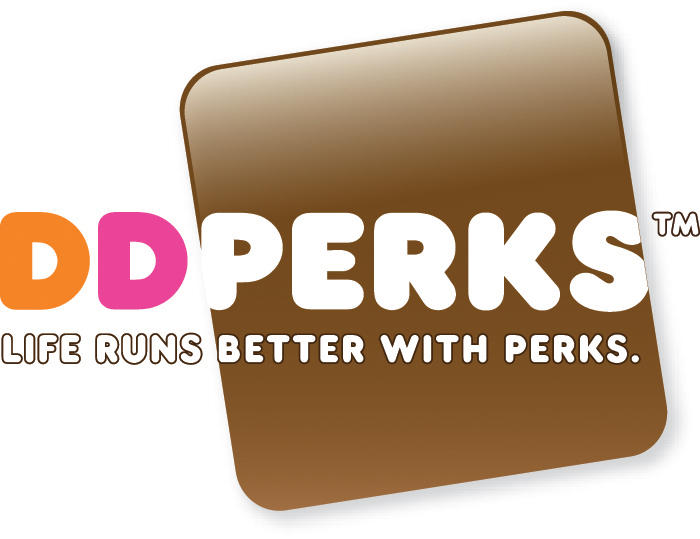 DD Perks Evolution (L to R: 2007, 2008, 2010)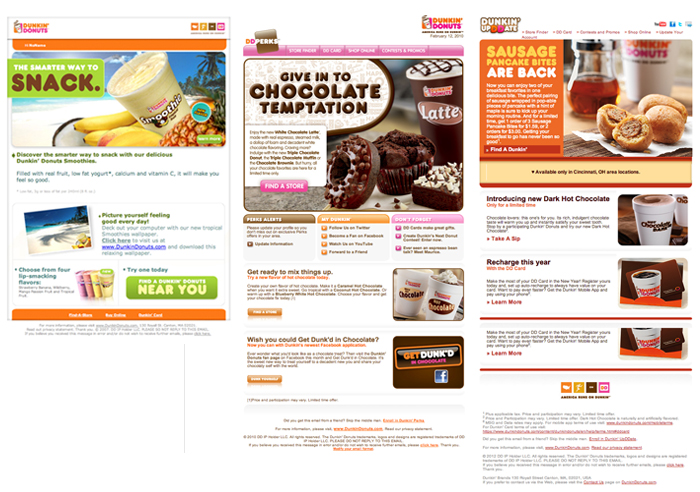 DD Perks Marketing Emails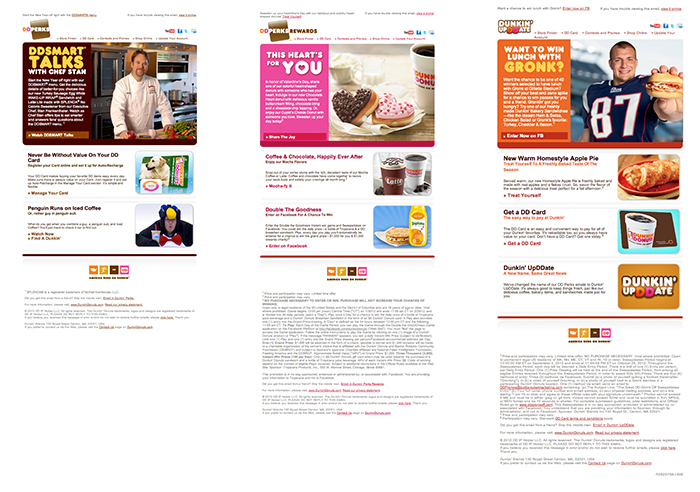 DD Perks Rapid Response Emails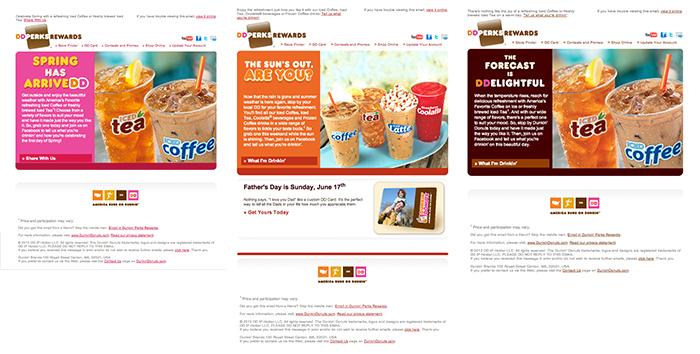 DD Perks Dedicated Emails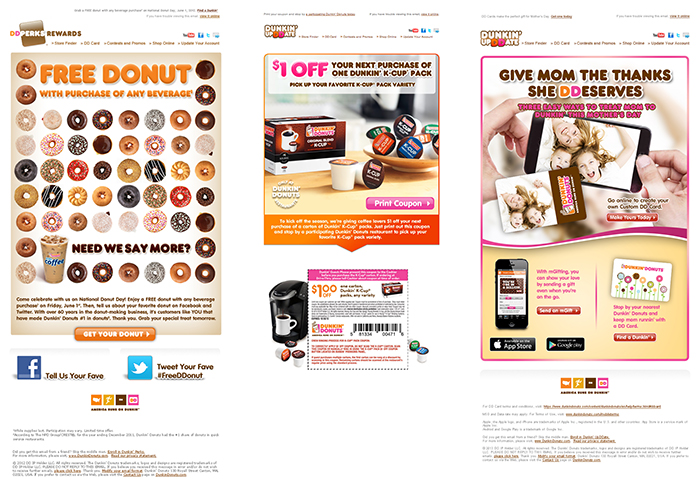 DD Perks Rewards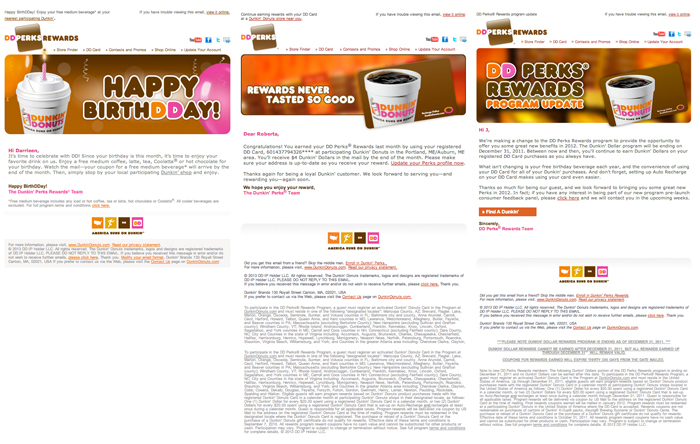 DD Perks Direct Mail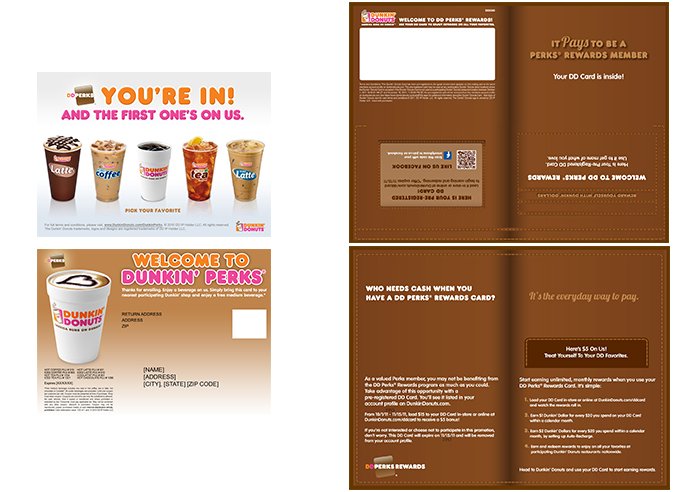 DD Perks Branding Redesign: Logo and card explorations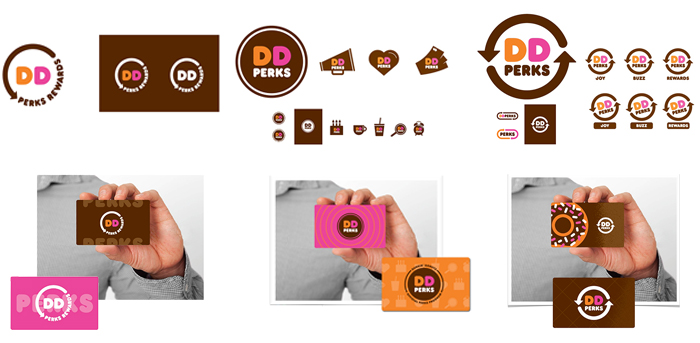 DD Perks Branding Redesign: Card Holder, Direct Mailer, Packaging and In-Store Signage

DD Perks Branding Redesign: Activations including Perks Day, Partnerships and Refer a Friend in social