Create Dunkin's Next Donut
Bringing back the donut love.
Our client wanted to bring back the excitement around donuts, which had been waning. The solution was the crowd-sourcing contest "Create Dunkin's Next Donut Contest", which inspired DD's fans to create their own custom donut for a chance to win $12,000 and have it sold in 6,300+ U.S. restaurants.
Creatively, the goal was the provide entrants with an intuitive, fun, exciting experience to truly create something unique. Usability testing optimized the experience, moving consumers through the entire creation and submission process, maximizing customer rewards registration, email signup, and retail offer exposure. The variety of creative possibilities (including shape, dough, filling, frosting and toppings) allowed over 950,000 possible unique creations.
In 2009, the project was "too successful" with participation exceeding projections by 2200%! In fact, the online media plan was cut after three days due to traffic being so far ahead of expectations. It was clear that this was going to be a highly engaging promotion. At the end there were over 129,000 entries and 174,000 votes, with people spending an average of nine minutes on the site. There were 90 million national media impressions (a $10 million marketing value). Many of the 12 finalists (or their friends and family) actually created and drove traffic to their own Facebook pages, which they used to solicit votes.
The contest was such a hit, that DD brought it back in 2010. We leveraged much of the site built the prior year; but gave it a facelift to tie into Dunkin's 60th birthday. We also added in functionality, including the ability to save created donuts to one's own personal "My Donuts" section. As a result, we saw even more success with year-over-year increases in unique visitors who entered the contest, unique visitors who created a donut, people who voted, and opt-ins to the DD loyalty program, without any media spend. Engagement with the donut creator continues year-round, with millions of donuts created by fans both in and outside of the promotional periods.
Skill Sets:
Strategy
Concept Development
Creative Direction
Copywriting
Art Direction
Client Presentation & Management
Working with Cross-Functional Teams
Website Development
Social Media
Video Production
User Experience
Awards & Recognition:
+ 2010 MITX Finalist: Social Media Strategies
+ 2010 MITX Finalist: Consumer Goods
+ 2010 Hatch Award Winner: Social Media
+ 2010 Hatch Award Winner: Websites
+ 2010 Forrester Groundswell Award: Finalist
+ 2009 MITX Winner: Best Cross Media Award
+ 2009 Adobe Site of the Day
Buzz On The Donut Creator:
+ Dunkin' To Make Create Donut Contest Annual Event
+ Dunkin' Wants You To Create Its Next Donut
+ How Studiocom and Dunkin' donuts created a crowdsourced donut viral campaign
+ Social Media Tips: Content Sharing - Dunkin' Donuts

Click on an image below to view it larger.
Create Dunkin's Next Donut on DunkinDonuts.com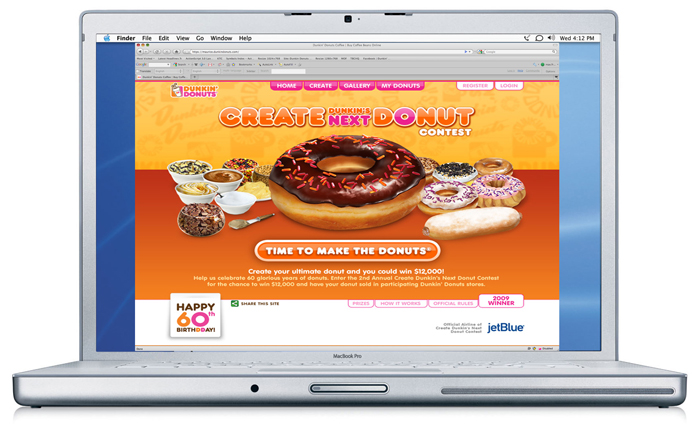 Donut creation interface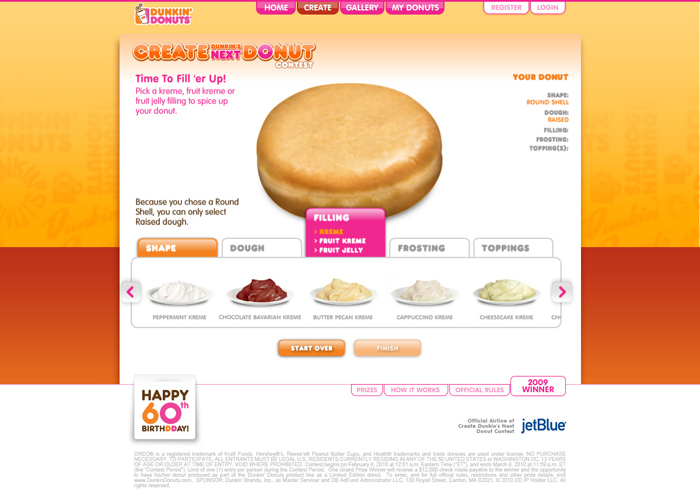 Donut creation interface with descriptions. Each ingredient had a description written for it to help the user get a sense of the flavor profile.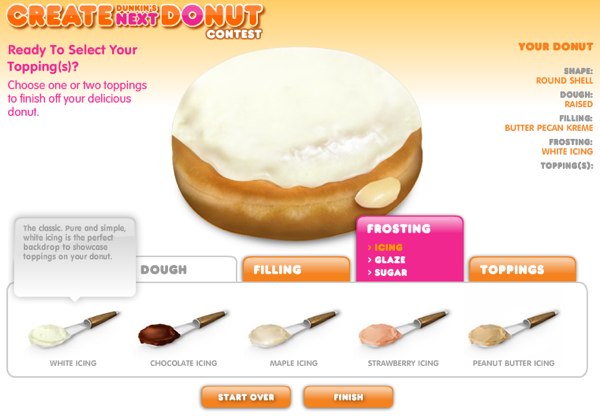 Illustrated elements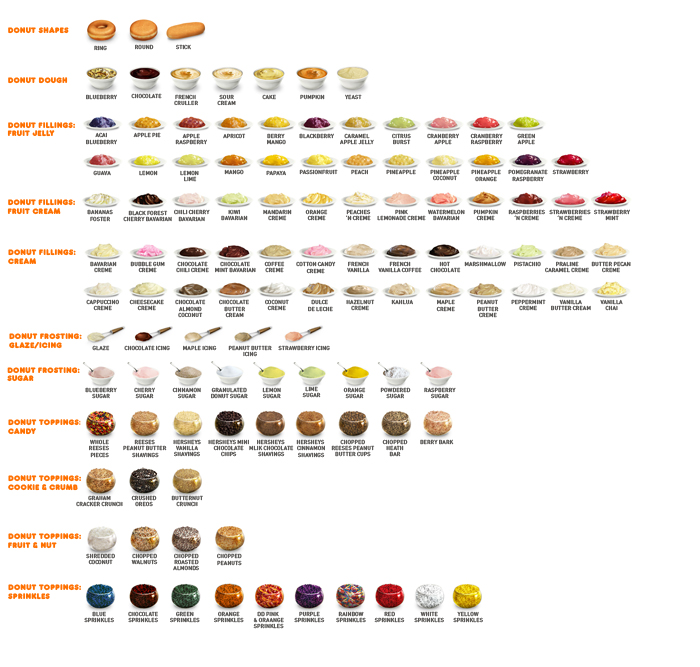 My Donuts. Section added in 2010 allowing users to save donuts to a personal gallery before selecting "the one" to enter into the contest.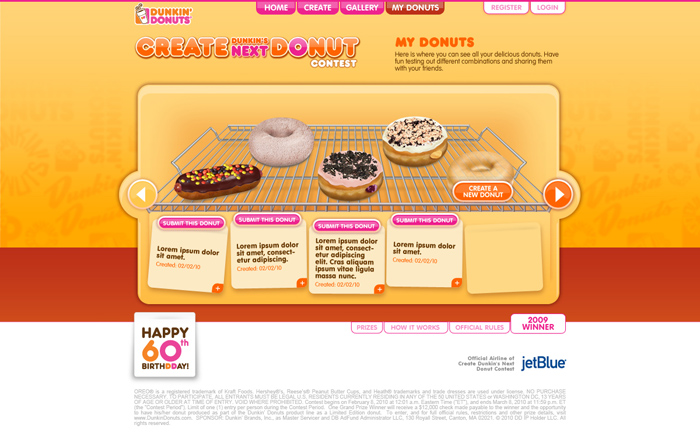 Donut voting gallery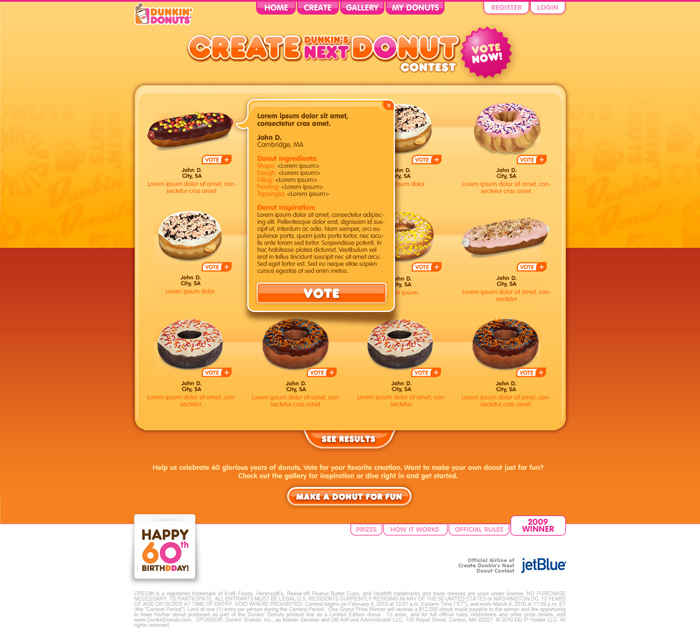 Donut voting gallery results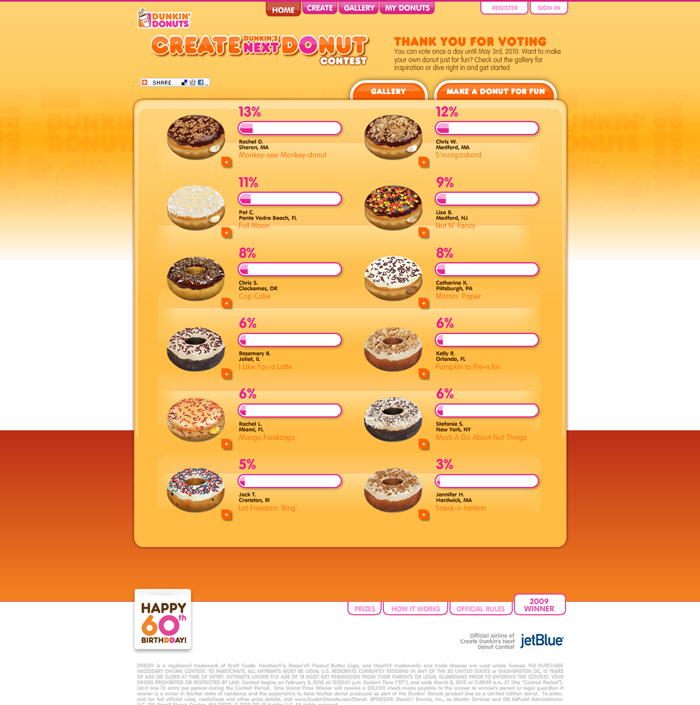 Downloadable wallpapers and sharable social assets. Donut in these graphics is dynamic and users would have their own donut creation in its place.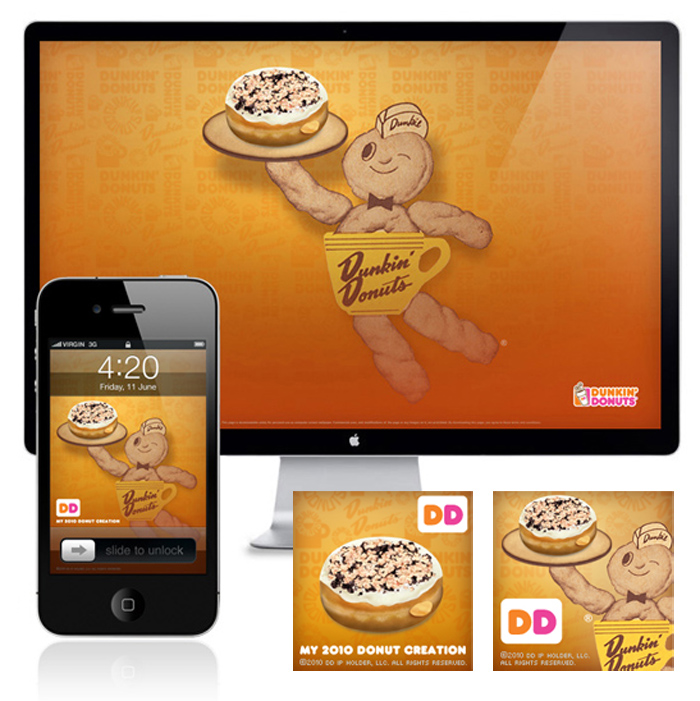 A few of the emails that were part of the program. As there were many phases to this project, there were many iterations of emails for each phase.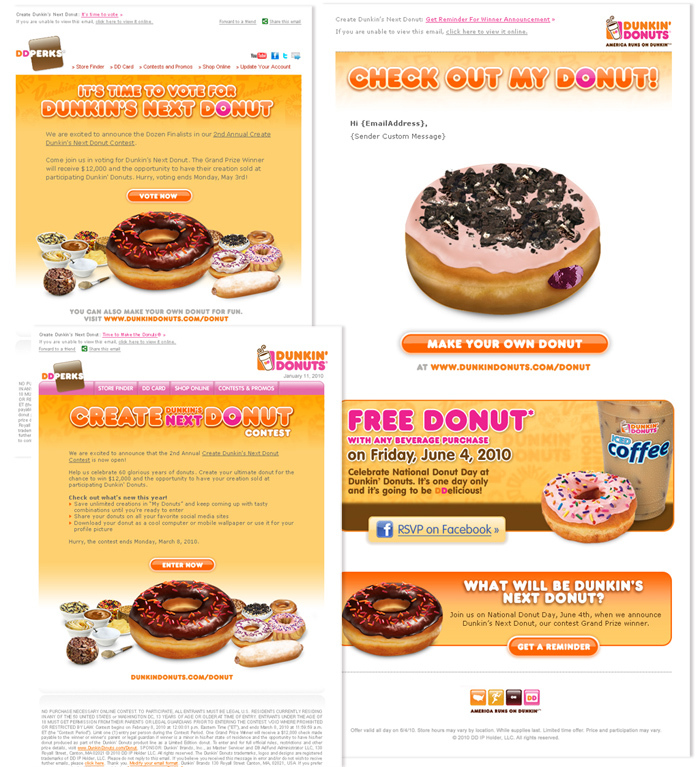 Donut voting closed/National Donut Day offer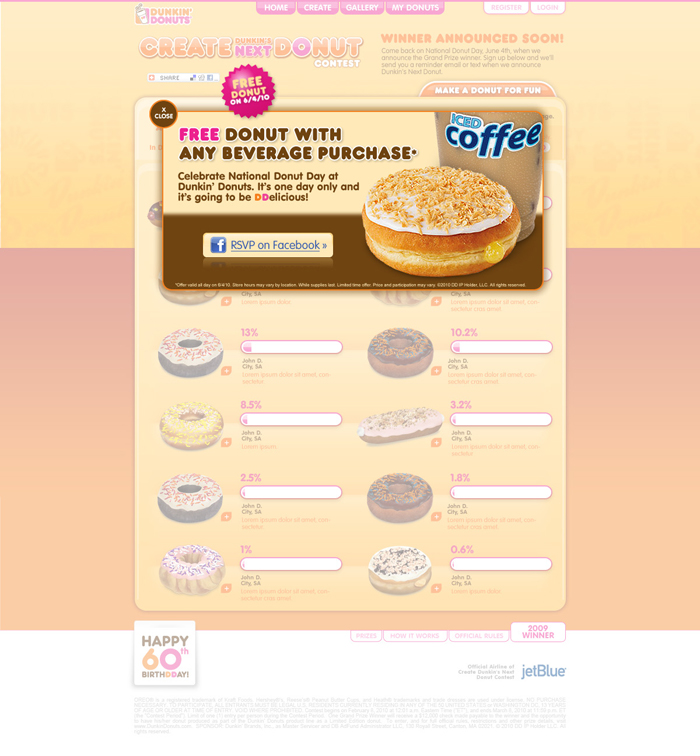 Facebook Tie-ins: Contest Promotion and National Donut Day Event Page/Offer, which was also the same day the winner annoucement for Dunkin's Next Donut.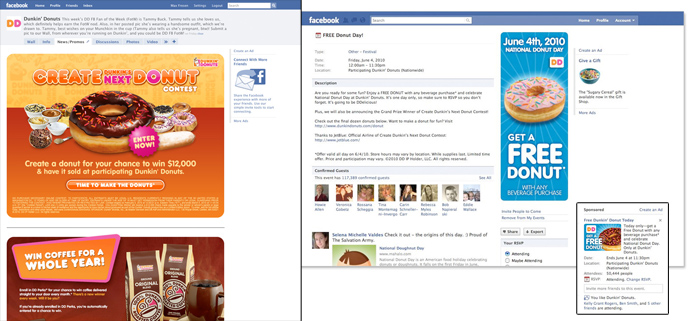 Watch how the experience unfolds:

See the Web-Only 2010 Teaser Video: