Citizens Bank
Making banking more social.
As social media AOR for Citizens Bank, VML (previously Studiocom) was tasked with providing strategy and creative for the brand.
In a vertical where customer trust is low, our goal was to use social media as a catalyst to build trust using Facebook and Twitter. As creative lead on this account, I worked closely with our clients and cross-discipline teams within the agency.
Social Content Strategy: For Facebook and Twitter we put together a plan for content that the brand could push out which would be interesting and relevant to their audience. This included themes and memes such as Monday Fun Facts, Financial Tip Tuesdays, Throwback Thursdays, Did You Know?, and inspirational quotes. We create a template that was on brand, but allowed for some flexibility based on the content it needed to include. This template also allowed for pre-creation of content tied to the calendar, as well as making it easy to create content on the fly as needed to be timely.
TruFit Good Citizen Scholarship: Citizens Bank provides scholarship funds to students who are active participants in their communities. From 2011-2013, we used social media to promote awareness of the scholarhsip, drive applications, and to showcase the winners. I lead designers and art directors as we established slightly different visual designs each year for final phase, which was designed in a way that it was a digital poster on Facebook, but could also be printed and posted throughout the schools of the winners (or tacked up on the fridge in their homes).
Skill Sets:
Strategy
Concept Development
Creative Direction
Copywriting
Art Direction
Client Presentation & Management
Working with Cross-Functional Teams
Intergrated Agency Collaboration
Social Media
User Experience
Scroll down to see all images and click to see them larger.
Social Content Strategy: Examples in the wild


TruFit Good Citizen Scholarship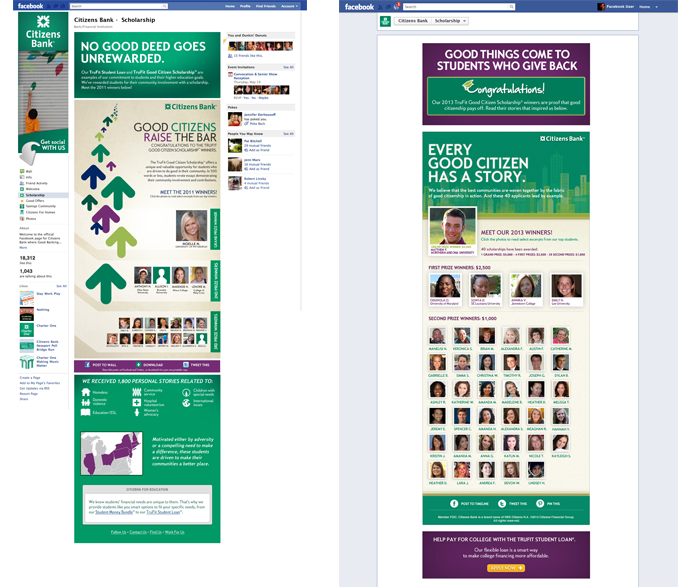 Mobile Banking on Facebook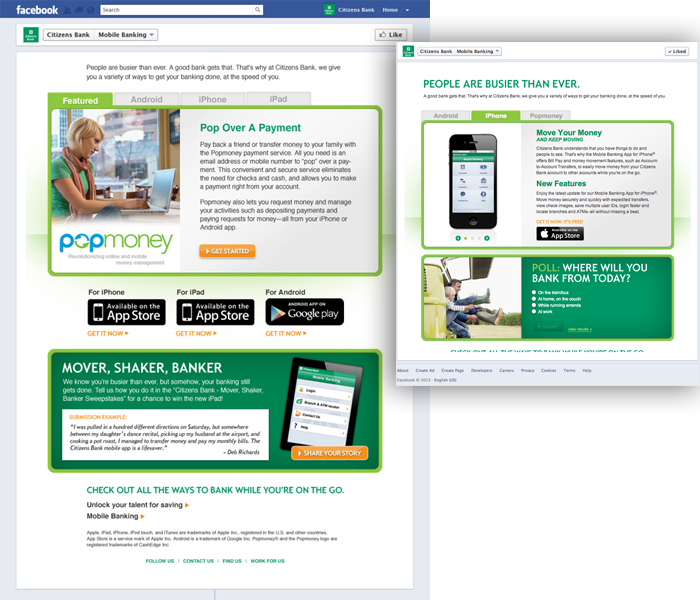 Proposed Facebook Welcome Page